Rubio and Marnie arrive at Beacon Academy to begin testing for acceptance into Shade. Nur, Zaffrea, Grim, Shiro, Cerise, and Magnolia all get to show off in a talent show of sorts, except Cerise's lap dance performance involves the use of his semblance and everybody gets high. Highjinks ensue, and so Neela is left bloody and bruised on the floor, Shiro has a broken heart, Cerise's flower is black, Grim is huddled up scared in a corner, and everyone is accepted into Shade!
EXP Awarded
Shiro Schwarz - 240 EXP (Shiro is put through immense emotional pain by having his heart broken by Nur. It can also be presumed that putting Neela in such a miserable state was equally if not more so heart wrenching. How he deals with emotional trauma is expanded upon by having Soren, Halian, and Orion come out.)
Neeru Nehanth (Nur) (Neela) - 230 EXP (Nur is his usual asshole of a self, but this is very well cemented. Neela undergoes a pretty brutal experience that he definitely isn't used to.)
Cerise Moani - 230 EXP (Cerise undergoes some kind of altercation with his flower YET AGAIN as just a couple weeks after it has grown back from having been pulled, it is turned black. His confidence broken just a tad through harsh criticisms from Rubio, but Zaffrea makes him feel a bit better. Their relationship is improving!)
Marmalade "Marnie" Noisette - 225 EXP (Marnie's temperamental personality is established, and she endures a pretty cruel prank from Rubio. Well, maybe endure isn't exactly the right word, because it pretty much breaks her.)
Zaffrea Shanti - 225 EXP (Depressed Zaffrea is depressed, but happy zaffrea is happy! She's feeling a little better than the usual, and even starts to hint a little at becoming more open minded in regards to Cerise's usual habits.)
Magnolia Chien Kreide - 220 EXP (Magnolia is very very nervous, but fortunately Cerise's high enables her to put those nervous feelings aside to a degree and allows her to exhibit some very quick thinking.)
Rubio Aurella - 220 EXP (Rubio establishes his authority and power as headmaster of Shade Academy, and his dickhole of a personality (possibly a level above Nur?) is exhibited as well.)
Grim Ceifeiro - 220 EXP (Grim hides. But it also expresses some sort of interest in "Poodles", and a more "spacey" (HA!) side to it's personality comes out as it accidentally alters Cerise's flower.)
It was the middle of the day when they arrived at Beacon's port, the ship making a precise land before a tall, blond but dark skinned individual with enormous platinum blond/golden yellow wings to match exited the ship. He had a unique exotic appearance and left his shirt a small bit open as he examined the new environment, physically adapting to the change in temperature of Beacon compared to Shade and he sighed slightly. The unique structure and placement of Beacon over a plateau that overlooked the entire city of Vale was quite a sight to see. The cliff particularly called out to the bird of prey faunus, but he expressed little to no emotion as glowered over Beacon seemingly judging it. He snapped his fingers and put on a rather irritated and impatient scowl as he called his assisting professor, a mouse faunus, Marnie over, angry that she didn't immediately exit the ship with him. "We don't have time for messing around here. Honestly, do think it was EASY to get this arrangement? Am I made of money to you or something?" he spat at her but didn't continue to verbally abuse her as he normally would but focusing instead on gathering the students.
His acquaintance, the head master at Beacon already had alerted him that she sent the students that he selected from the arrangements they made together to the auditorium so he needed to locate it and quickly. It would probably have been more polite to speak formally to the other headmaster, but he honestly didn't have much of a care to do so, and was fully focused on the task at hand. There was no point in trying too hard to adapt to this environment as he fully expected to get this done as efficiently as possible, already confident in his selection of students. As he walked, he took long strides paying no attention to Marnie and it would have probably been difficult to keep up with him if it weren't Marnie, but granted she was also holding all the stuff. 
He arrived at the the auditorium, slamming the double doors open but rushing through so probably slammed back on Marnie as he noticed there was no one there yet. He checked the time and growled slightly, crossing his arms, "I give them ten minutes," he said to Marnie irritably tapping his foot.
Grim was hiding in the corner. It noticed the mean guy and his further, more scared. But it's black cloak allowed it to blend into the corner seamlessly.
Shiro walked in, hand in hand with Nur. He looked at the winged male then at the mouse faunus, who looked like she just got hit with a door. Looking back at the Male, he studied him and felt almost instantly he wasn't going to like this guy. 
"Ready to show what you can do, love? Kick ass and take names?"
He said with a smirk.
As the airship began to land, Marnie stared out at the view, mostly focused on the forest area... She wondered what kind of Grimm would be lurking in there, it was sort of a shame that Rubio wouldn't allow any time for some side expeditions or encounters while they were here in Vale, or at least she assumed he wouldn't. She hadn't actually bothered asking, now that she thought about it.... but I mean, the answer was already obvious, the asshole never let her do anything she wanted! >: ( Especially if it required some sort of effort on his part. Thoughts wandering off about the Grimm though, she hadn't actually noticed that the ship had now landed, resulting in exactly what'd you expect from Rubio: scolding. Ugh. "You pretty much are..." She mumbled out irritated in response to his comment about "being made of money, but luckily all the rustling from picking up after Rubio's MANY bags (what the fuck did he even need all this stupid shit for?!?) covered it up so that Rubio didn't hear. Although her legs were short, she was for the most part able to keep up with Rubio's long strides, fast walking clearly with a purpose, doing her best not to drop anything.
Once they reached the auditorium though... "MOTHER FUCKER!!!" Marnie yelped out, the door hitting her HARD on nose, resulting her falling right on her ass and the bags flying to floor. She recovered quickly enough, giving her nose a few quick rubs before she was back on her feet, but her expression was clearly even MORE annoyed than before, with a bright red mark where the door had hit her. Rubio of course didn't even take the time to apologize, clearly intentionally ignoring her; how could you not hear a yell like that!!! Fine. Whatever. She quickly picked up one of Ruibo's bags at random and tossed it into a nearby bush, Rubio already having walked much too far away to notice. Not like he'll miss it, or even notice, he already had so much other shit with him, and even if he did miss it he could just buy everything in there all over again. What a fucking liar, he really WAS made of money.
So, Nur guessed he was holding Shiro's hand. Sure it would have been cute enough. Would have been... He didn't really see the need to let go though, secretly enjoying some of the attention, but what was this like the FIFTH time total they have seen each other and he was putting him on this sort of pedastol? Where did all this undying love come from anyway?? Well... he supposed he didn't really do much different for Cerise and kind of just annoyingly clicked his tongue and looked aside, mostly trying to remember why he was here again, "I'm sorry, but what the hell is this again?" he said slightly raising his hand as he entered, hoping to address this professor-looking person, but then stopping a but as he realized that he actually looked a little intimidating. He automatically moved closer to Shiro, "This better not be like last time..." he mumbled/hissed.
Rubio smiled, glad that some students were smart enough to adapt to other people's schedules. He heard Marnie yell, but couldn't afford to give a shit at the moment, probably wouldn't later either as he just ignored her but remember to check his bags thouroughly later to see if she damaged anything. He would take it off her paycheck, he decided.
"Ah!" he said, addressing the students, "Wonderful, two of you are here. Please give me your full names and I will register you now. You are about to be given the opportuniy of a life time, and you are very much so welcome."
Grim hiding hid still. More people came and it was like it wasn't there, not breathing basically. Shhhh.
Magnolia was walking at a quick pace, worried as shit for the occasion. She kept thinking "What if I don't impress" and "What if I choke up in front of them?". This was an important opportunity for her and she'd be crushed if she didn't get into Shade. She was sweating with nervousness and kept thinking all these bad stuff, and then she tripped and hurt her nose. She was rubbing her nose when she walked in. She saw this mouse girl grumpy as shit and thought "Wow,she looks really cute!" but the thought was cut short when she saw the intimidating bird faunas. She recognized him as the Head Master Rubio and couldn't breath for a sec as her eyes widened with anxiety.
Cerise was surprised to hear he had been selected for this... hm... well.. actually, he wasn't exactly sure what it was? Some kind of.. opportunity? Yin had talked to him about it, but Cerise wasn't exactly paying attention, more or less zoning out as he thought about his unsteady relationship with Zaffrea and his heartbreak over Mei Ming. Well, it didn't really matter that he wasn't paying much attention any way, all that mattered was fortunately Zaffrea retained all the details for him! "Hey... so.. What are we going to again, love?" Cerise said, making sure to use a sweet tone, wanting to put effort into fixing relationship. As soon as he finished his sentence though, he instantly realized that Zaffrea couldn't hear what he was saying anyways, and instantly felt guilty for not being considerate to her new disability, but also a little annoyed that he would now have to repeat himself... This time he reached out to Zaffrea's hand to hold it to get her attention first, then proceeded to mouth out the words to her, giving her a kiss on the cheek and a smile after, although it seemed to come a little.. less natural than usual, and instead a little more forced.
Zaffrea paused for a moment as they made their way to the auditorium, she turned to Cerise. He had been ... nice enough lately. It was all fake. She was fake. He was fake. This was a fake relationship with fake happiness and only real sadness and she was going to die. She let herself immerse a little on this harmful and suicidal thoughts about her sadness but stopped to respond to Cerise completely gulping down all the hurt and smiling back at him that was more forced than Cerise's smile. She thought back to what Yin told her about this, Yin always was so patient with her, "Ah… it is about another school," she said taking a bit to speak fully, "Not sure what, exactly… she did not say, but would probably be good for us." She smiled pleasantly and grabbed his hand a firmer squeeze in return to reassure him but probably was just a little too hard.
As they fully entered in the auditorium, she noticed Nur and a couple of faunus who looked to be slightly injured. She let go of Cerise's hand and made her way over to Marnie, finding the source of pain easily and tapping her nose, saying "Hurt?" She didn't want to communicate much more though, as it was very difficult and she looked a little irritated anyway probably wouldn't have much patience for her then made her way to the other faunus who was a poodle and tapped her nose as well. She didn't know either one of them, but her pain absorbing tendencies were kicking back in and Zaffrea just felt like she was being put more to use taking people's pains than trying to make someone like Cerise feel better at her expense. Zaffrea gave a slight nod to Nur and returned back to Cerise, rubbing her own nose now from taking the combined pain of Marnie's and Magnolia's small nose injuries.
He glanced at his partner before back at the male in front of him, noticing a slight intimadating factor to him, but besides that didn't fear the headmaster nor hold much concern for him.
"This is a test like thing, so we can transfer to Shade. I guess it is like a trial of some sort."
He smiled and looked at the male and was about to tell him who he was before he felt Nur get closer to him.
"Nervous? Don't be. I know you can handle this. And he isn't that intimadating, just a pretty boy."
He whispered to him before looking back to the male.
"Do you want my current name or all of them, sir?"
Rubio raised a brow at Zaffrea's actions but turned, counting all the heads and matching their appearances with the depictions given to him by Yin and turned to give Shiro some attention, "Hold that thought for now," he told him then moved closer to everyone, "Very well then, we are missing one but there has been sufficient time for this person to have appeared by now so we will just have to continue," he said loudly and cleared his throat, "Beacon students, I am Professor Aurella, Headmaster at Shade Academy at Vacuo. Through a bit of collaboration with the headmaster here, we have created a program that will allow a small number of gifted and unique students an opportunity to test themselves and adapt to a new environment. You will all be examined, one by one, right here, right now by yours truly and this mouse professor. And do be careful, she does indeed bite.
Now, I understand what you all may be thinking, why is it important for me to go to Shade if I am already here at Beacon? Well, allow me to answer that question. Adaptation, dear students, is a key element to human and faunus survival alike, no offense to any androids in the room if one slipped my thorough research. As future huntsmen and huntresses, you will be required to adapt to new situations, environments, hardships and changes. As societies adapt and progress, so do challenges, therefore you, as leaders of a new era must put yourself up to the plate and this is where all your preparation begins. So I will call you individually to show me, no CONVINCE me, you have what it takes. You're free to do anything you wish as long as it's too impress and incorporates some sort of skill or strength you plan on taking with you in our pursuit of righteousness. To give you an example of what it means to be truly and reactively adaptative, my assisting professor and I will now give you a demonstration. MARNIE!!!" he gave his speech as he circled around the students, looking them in the eyes and then yelled over to Marnie. He handed her his gun. "Now, just as we rehearsed," he said as he moved away across from Marnie, "Now, adaptation comes in all forms and at Shade we value emotional and physical adaptation. For myself, I can adapt to any physical injury and form an immunity towards it, as we will now show you all an example of physical adaptation." He nodded to Marnie so that she could shoot him.
Grim was adapting. Adapting by hiding. Because hiding meant that it would not be in danger, therefore safe. So... adapting? Grim didn't know what was going on and stayed silently in the dark corner as if the darkness was its cloak. This wasn't true of course it already had a cloak. A very dark one. Hiding.
Shiro thought to himself during his speech on what his thing should be. He could definitely show off and explain his headmates before showing them what he could do with his gravity and weapons. But he felt his headmates would be the best bet with adaption without making too much of a mess with falling rocks and shit like that.
Marnie felt a little sorry for the poodle faunus as she saw her go through the same kind she just had experienced herself just a few moments prior… Well, at least she didn't have to get slammed in the fucking face, the tripping to the floor seemed like that better option. Marnie usually wouldn't bother to say anything at all if she didn't have to, but she supposed that now that she was going to be a professor, she at least had somewhat of a responsibility to connect with students. "I know how that feels… sorry." Marnie said to Magnolia, keeping things curt. The fact that Magnolia looked a little less human because of her snout made her a little easier to talk to, in all honesty. Seeing Zaffrea approach her and Magnolia, she began to feel a little uneasy, feeling suspicious for no real reason in particular, other than the fact that Rubio was supposed to be the center of attention, not her! So why was this girl approaching her?! As Zaffrea gave her a little tap, Marnie flinched a little, but then felt instant relief? Uh… she guessed.. That she should thank her? Marnie wasn't exactly the best with being courteous. But before she could actually say thanks, Rubio had called for her, the chance to say thank you already gone so that all Marnie was able to do was to look at the ground, unsure, and rush out a quick "Sorry.." before getting up to join Rubio on the auditorium's stage.
She rolled her eyes at Rubio's speech, she'd already heard him go on and on about all this adaptation shit countless times. This was far from the first he's talked about adaptation, but it didn't make it any less annoying; the worst part was that he was using the word all. Fucking. Wrong!!!!!!! Adaptation wasn't about learning to match your environment, adaptation was about EVOLVING to match the environment of the species of a whole!! It takes generations upon generations of natural selection to "adapt"!!!! What kind of fucking idiotic asshole mixes up adaptation with ACCLIMATIZATION!!!!! Of course, being a biologist and therefore naturally passionate about these sort of technicalities, Marnie was probably the only one who actually cared about all this. Seeing Rubio now offer her the gun though, Marnie began to cheer up a little bit, she would finally get a chance to give this asshat what he's had coming.
Giving a little nod, along with a smile made sort of awkward by her attempting to hold it back, she took the gun and walked back a bit to put some space between her and Rubio. *Bang!* went the gun, as she shot it at Rubio, her steady hand allowing her to hit her mark, Rubio's chest. This was exactly as planned between them, and Rubio had successfully deflected it with his semblance, now about to continue his speech. Except… *Bang!* Marnie effectively cut him off, shooting the gun once again. *Bang!* *Bang!* *Bang!* Again and again, Marnie wouldn't allow him to continue, just continuing to shoot Rubio every time he would try to get a word in. Rubio was now angrily approaching Marnie, wings flared out in an intimidating manner, making him look bigger than he was. Marnie didn't really care though, now rapid fire shooting the gun, trying to get in as many shots as possible before it would be inevitable snatched away from her. *BANG BANG BANG BANGBANGBANGBANGBANG...Bang* As Rubio took the gun away, she made a little bit of eye contact giving a wise ass smirk.
Magnolia was standing around waiting for... something?She didn't specifically know. She was lost in thought until she jolted as someone passing by just dapped her on the nose. She didn't appreciate the psychical contact but at least her nose felt better. Then after a while the cute mouse girl just walked up to her and said "I know how that feels… sorry.". Magnolia had no idea what she meant but appreciated the comment a lot anyways. She was cught off guard again when the Head Master yelled attention to the crowd. She listened to the speech, taking in everything the Head Master had to say, and TBH, was sorta creeped out when she saw the mouse faunus shooting the Head Master over and over with a sort of grin on her face 3:.
Shiro watched the whole fiasco with a slight smirk. He didn't know why, but watching the mouse giving the winged asshole his what for, even if it did nothing, was a rather amusing thing to see. He squeezed Nur's hand a bit and smirked a bit.
Zaffrea shifted weight to another foot as she uncomfortably watched the ordeal. Her mind wasn't really on the whole thing, however. She was mostly getting sadder that she took on the small faunus' pains and they didn't appreciate it. She wanted to help... but she just made them feel uncomfortable she could tell due to her immense empathy. Come to think of it... she hardly ever got satisfaction from healing others when she was helping Patchouli, they never really thanked her or showed her any gratitude despite taking on a lot of pain for them... Royce... didn't even look remotely grateful or even looked like he emotionally cared at all when she did go into a coma, she recalled that he was there when she woke up, but he was as apathetic as ever. She used to pride herself on her compassion and love for others, valuing the love she received back from being so useful, but... that's all changed... She blinked back tears sniffling lightly thinking about all this as her chest hurt immensely in combination with the slight throbbing of her nose as she did everything she could to not burst into tears like she wanted to but was physically unable to keep signs from it from showing.
Nur meanwhile was snickering watching all this. It was REALLY entertaining. He didn't notice Shiro's actions or otherwise didn't care, he was just trying to keep himself from filling the auditorium with his annoying and loud laughter.
Rubio was incredibly pissed as he roughly grabbed the gun from Marnie and moved away from her. This was not what they rehearsed, but no matter, he could adapt. He sighed to calm himself down and turned his attention to the students. "Now then," he began again to pick up from being so rudely interrupted before, angrily , "As I was saying ... the ability to adapt can be presented in different ways. For myself, I can withstand physical attacks while not being damaged. But for Marnie, as you will all see..." he let the last note trail off a bit as he now raised the gun at her and shot her but not worried since they had practiced this and Marnie was shown to be rather speedy.
Cerise was sitting on his own as Zaffrea went off to tend to Marnie and Maggie's wounds. He would usually just go sit with Nur, but it looked someone already.. had his attention.. much to Cerise's annoyance, leaving him to feeling lonely. Well, at least being left to himself gave him an opportunity to check out all these new faunus in peace! If his eyes even just so happened to wander while he was with Zaffrea, she'd get all upset, but in a passive and quiet way that just made him uncomfortable. Really, why couldn't she just yell at him like she used too! He hated it at the time, when they were first getting to know each other, but now things had gotten so bad he was starting to look back on it fondly. So, the mouse was pretty cute, with that little tail and all, and the pup had her own charm, he could think of plenty of ways to put that snout to good use ;) But what REALLY caught his eye was the bird of prey... Cerise definitely wouldn't mind putting on a show for him ;) Oh, it looked like Zaffrea was starting to come back, looking... even sadder then before? She looked like she was about to cry... "Hey, what happened? What's wrong?" Cerise said, his voice actually genuine this time unlike earlier, as he grew concerned. The whole demonstration was just sort of going on in the background, as he was trying to focus on Zaffrea instead.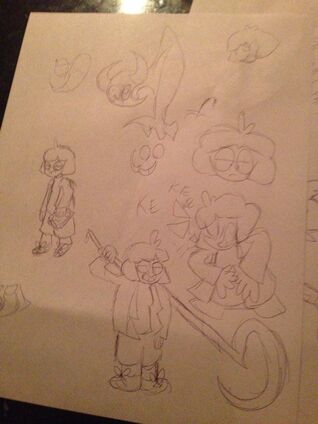 Marnie instantly whipped out her sickle, starting the action before Rubio even pulled the trigger so that she could properly execute what she had planned, the emphasis here being that this was her plan, having mentally ditched Rubio's plan from the second he proposed it to her. Quickly pushing her thumb up the slider, the sickle grew large enough in size to effectively deflect the bullet, so that it bounced off upon impact and went flying back at Rubio. Really, Rubio brought all this upon himself, he really did have a birdbrain if he actually expect Marnie to follow along and use her semblance! >: (
Zaffrea turned to Cerise, her lips quivering as her eyes were watered further as she was fully prepared on Cerise making her feel even more miserable but... he gave her a look of genuine concern that truly.. touched her. She felt like she was going to cry out of happiness now as she gently pulled on his arm to pull him aside but just a little bit as she stroked his arm, softly moving up to his cheek as she cupped his face, looking at him with a soft smile. She lightly pecked his lips and smiled at him. She was feeling really happy as she examined Cerise, fixing up his hair slightly, "I will be okay," she said softly, "Thank you though... Love you..." She was genuine as she spoke to him something she hasn't been in a while. She kissed him lightly again, patting his shoulder and sighed, turning back to the demonstration. Next to Cerise she nudged him playfully and motioned her head over to Marnie, "Cute?" she said suggestively. She was feeling a little more open about looking at other people. Although this was mostly in her attempt to be less upset about it, she was gradually starting to realize that even SHE had small crushes on other people even if she was with Cerise. Like with Sulala, she was actually planning on approaching the bulky girl but she seemed to have left or transferred or something before she had the chance. It's just that she always thought once you were with someone, that it's all you think about and you never ever look at someone else again, but she was beginning to be more open about it.
Rubio was already agitated, but now he was downright furious! He caught the bullet with his hand, as his semblance gave him a incredibly temporary speed boost to adapt to the new threat that he didn't see coming ahead of time. He threw the bullet aside and marched right up to Marnie, roughly grabbing one of her mouse ears and pulling it, "You were SUPPOSED to turn into a MOUSE, YOU KNOW," he LOUDLY whispered through gritted teeth.
Cerise always loved it when Zaffrea would touch his hair like that, she was always really good hair in general. His eyes softened a bit as she spoke softly to her, and he felt... really happy with her for once. Of course, this wasn't the first time they've had a good moment together, but moments like these were so few and far in between lately that they were easy to forget, causing the both of them to usually instead dwell on the all the sad parts of their relationship instead. Having a good moment with Zaffrea again though... it reminded Cerise of why he had committed himself to her (or at least "tried") in the first place, and a lovey sort of feeling tugged at his heart. 
"The mouse?" Cerise said, his voice surprised but cheerful; Zaffrea never expressed interest in anyone, but now that it was happening, it was actually really cute, even cuter than the mouse in question. He gave Zaffrea a little peck on the cheek to express this. "Is she your type; I never expected you to be into the tiny ones! Well, you're right, she IS cute, but the cocky one is downright sexy." Cerise said, now feeling a little more at ease about checking Rubio out.
"Isn't "adaptation" supposed to be all about the unexpected anyways? Adjusting to whatever surprises life might throw at you?" Marnie replied with gritted teeth as well, fists clenched, eyeing the ground as her face reddened the tiniest bit from humiliation as she was clearly put into a position of inferiority with all of the students to see.
Zaffrea laughed lightly, blushing, "No... not really," she admitted processing Cerise's words by reading his lips, "But I love faunus. Florus even more..." she trailed off a bit slightly huskily to flirt with Cerise.
Nur couldn't contain himself and was full blown exploding with laughter, holding his stomach and hurling himself back and forth, "Yeah *laugh* isn't *laugh* she *laugh* adapting *laugh* to what. she doesn't *laugh* like?!!!!!" he said each word in between breaths, "That *laugh* is *laugh* adapting to me!!!!" he continued to laugh.
Rubio thought for a moment, slightly appreciating Marnie's lesson but a little too mad anyway. He let go of Marnie and composed himself again, "Ahem, true true," he admitted, "Moving on then. Let's see what you all can do, I will call you up one by one for examination. Show off in whatever form you like but keep in mind our theme." He hopped down from the stage so that he could give it to the first student he would call up. He was about to check his scroll to look at his list.
He watched the two go at it, a slight smirk of amusement spread it's way onto his lips, resisting laughter as much as he could. He could almost feel the pent up tension between the two. 
As soon as Nur started laughing, he couldn't resist himself. He was rib busting laughter.
"Ex-axtly! She is- adapting to- her dick of a boss!"
He laughed alongside Nur.
More stuff was happening. As well as laughter. Grim hid.
Cerise gave Zaffrea a flirty smile back before moving in for a small kiss; it was nice to know that Zaffrea actually had a type, in that he felt a little less pressure from their relationship, a little less like he was "the only one" for Zaffrea. Not that he didn't appreciate the attention or her affections or anything, but sometimes it could all get a little overbearing, which to be fair wasn't all too unreasonable considering that their first encounter involved Zaffrea expecting marriage!
"I sure see a form that I like ;)" Cerise directed towards Rubio, trying to get his attention now that the demonstration was over. "You know, you're certainly easy on the eyes, definitely a face that I could easily… adapt to."
Rubio was taken aback as he raised a brow at Cerise. He was pretty insecure about his appearance as it to have it pointed it out like that made him feel... examined in an inappropriate way. Obviously he was pretty good looking comparing pictures to what he looked like now compared to his more ... awkward years... But his beauty had never been noticed neither by him or anyone else and he rarely ever received a compliment really just adding more to him being convinced he even if he wasn't "ugly" anymore he wasn't physically appealing either at best and just still "ugly" at worst. Emotionally, he was always terrible at adapting, so he cleared his throat looking at the florus.
"Cerise Moani..." he said, thinking back to Yin's description of him, and smiled, "Thank you for volunteering to go first. I hope you have something good up your sleeve as you will need to impress me to get into Shade where you will be able to more than just adapt to my face." He smiled and crossed his arms, taking a seat near a bench near the stage being careful about his wings but expecting Cerise to go up as instructed.
Nur noticed Shiro was laughing with him and felt a little awkward to be honest, his laugh definitely dying do from "HAHAHAHAHa..hahahaha.ehehehe..ehhhhhh.........." as the focus shifted at the end of the demonstration. He painfully watched Cerise make a fool of himself to the headmaster but started snickering again that at least he would be the one humiliated first.
Zaffrea meanwhile was growing a bit concerned over Cerise's boldness. This was the headmaster wasn't it? She almost felt second hand embarrassment as Cerise was put up first, but considered what she would do when it was her turn. She had always put on shows at home... Oh... home... her chest started to tighten up again at the thought of home. She hadn't been able to get much stronger yet being in a coma for so long... Now her thoughts were fully travelling to the coma, to her lack of strength.. to home.. She was trying her best not to get too sad but she was getting depressed all over again. She tried to pay attention to what was going on.
Maggie was SO glad she wasn't first! She started to sweat bullets when Rubio said the thing was starting and she was just think over and over "please don't call me please don't call me please don't call me." She was still going over what her performance would be.
Grim notices Maggie who was the one closest to it. It calls out to her softly "Poodles~~~~~ poooooooodddleessssss~~~~" it was calling to her in a ghostly way but very softly almost as if Maggie wouldn't know someone was there or just imagining it since Grim was hidden so well. Grim's hiding continued.
Maggie thought she heard someone say doodles but she thought she must have been imagining it.
Cerise pulled up some music from his scroll and began to play it as a background to his performance.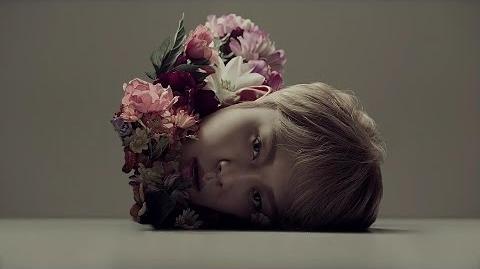 "Oh of course, you'll be more than just impressed, if my reputation is any indication of my skill. I'm sure Yin had plenty to say about me? ;)" Cerise said in an alluring voice while he strutted directly up to Rubio, hips swaying and heels clicking with every step. He maintained intense eye contact with him all the while, completely ignoring the stage. Once he reached him, he leaned into Rubio, placing the palms of his hands down on Rubio's thighs, their faces now only inches apart. "I don't know if you're ready for this... so I'll just have to make you ready." he said in a firm husky tone, before he let the pollen flow from his flower, activating his semblance to induce a high in Rubio so that he could fully relax and just take it all in. Palms still on Rubio's thighs, he smoothly slid the left hand to Rubio's bare chest, and, of course following the rhythm of the music, proceeded to straddle Rubio, first propping up his left leg so that his knee was now on the bench hugging Rubio's hip, and then his right. He was now sitting on his lap and grinding up against him. He was... giving Rubio a lap dance..... "Of course I'll be able to adapt to more than just.. this..." Cerise said seductively, placing his fingers palm up under Rubio's chin to lift it up a bit, forcing Rubio to look him in the eye. "I've "adapted" to more bodies than I can count, I've always been one to please after all. I can be anything you want me to be ;)" 
Maggie would have been blushing crimson red with her eyes widened and mouth agape, not even knowing how to react to Cerise's performance, but she was high as fuck right now. Tbh she just kinda felt sleepy and relaxed just standing around.
He was blinking a bit in surprise at the act before he felt his eyes get a bit heavy and his body relaxed. He tried to stay awake, but the longer it continued, the longer he was feeling heavier and heavier all around.
Rubio maintained a hardened expression throughout Cerise's.... "performance" as he looked Cerise intensely in the eyes but did not dare to make any movement.
Though Rubio had little emotionally adaptability, this was only applicable to situations where Rubio was able to emotionally involve himself into something. And Rubio, well according to him, only emotionally involved himself in things that would match his level of importance. While a comment about his appearance got him riled up, this was only because of his trauma with his appearance as a child, but this sexual attention did almost nothing to him. He liked to believe he was sapiosexual or only sexually attracted to intellect but truly he was demisexual and otherwise did not have much of a sexual drive. Therefore, he really didn't care much for this or was at all affected by the physical aspect of the "performance" instead analyzing his words and movements.
When Cerise finished talking, Rubio began to give him nothing but hate, "Sexual appeal? Nice try, but let's grade your performance anyway since this IS an examination. Let's start with your build-up. Only adequately slow. If you truly wanted to adapt to the speed of the music, you would have accentuated your speed a bit more and synced up your breath to go alongside it moving your hips from side to side, using a slow, deep inhale to push to one side and then a slow, steady exhale to push to the other side. Your clothing definitely did not compliment your style of moving your body. Given your uncurved figure, you should have but less attention into hip swaying which you don't have or synced up with the breath as I commented earlier. Not to mention that your motions weren't nearly circular enough, giving no indication to your potential skill level if this were to be taken to the next level to which I guarantee you that it will not happen. You were less than creative, but I applaud your attempt. Thank you for this display, we are done here." He said sternly and critically. 
Of course Rubio wasn't one on prostitutes. But others in his family were. During the more "fun" (not "fun" by his definition) meetings, there would always be a large amount of prostitutes giving all sorts of performances and much better. Cerise was obviously NOT one of performing type. 
He wasn't even TOUCHED by the semblance, his body forming an immunity the second it was introduced as he waved Cerise off and mentally considered who the next person would be. He glanced over at everyone else, fully noticing that they were beginning to be affected by Cerise's semblance and his eyes widened with glee.  At this point, Cerise was already off him, but he gave him a small amount of praise now, "Ah!!! I see your plan!!! You have now forced the others to adapt to the challenge, putting them at a disadvantage! Truly magnificent!" He looked at everyone, "Next up is ..... Magnolia Chien Kreide, and try to use the stage if possible," he sat, eyeing her directly now.
Grim couldn't see what was happening, because it was hiding. It heard music. Then it started to feel light headed and from feeling an airy sort of happiness started to spatially alter the the darkness in its corner to grow to cover half of the auditorium and the darkness was growing. Grim hid easier now.
As he felt the sleep give away, he remembered the flask of coffee in his jacket. He pulled it out and uncapped it before taking a few swigs from it. As soon as he did, his eyes shot open, alert again. He took an exhale before shaking his head a bit to get the rest of the sleepiness out of his system. Before he put it away, he took another few sips from it.
Only adequately slow? Uncircular motions?? Cerise was... definitely not at all happy with Rubio's reaction. He was supposed to seduced by now, not scolding him! Cerise opened his mouth up to say something, facial expression clearly irritated, but then closed it again, tried to open it again, but was just legitimately speechless for once in his life. Sure, he'd been rejected PLENTY of times before at Beacon, but all of those other times it was the other person who was at fault; THEY were the one's who didn't know something good when they saw it, who didn't know to appreciate true beauty. But now... there was no getting around it... this time, he was rejected, and for all the right reasons, as pointed out by Rubio's very specific criticisms. He walked, not strutted, back to where he was sitting with Zaffrea. "Was it..really that bad...." Cerise mouthed to Zaffrea with a somewhat sad expression, not wanting to let anyone else pick up on his insecurity. His sexual confidence was a key feature to his image and self presentation, so letting that down for once in front of Zaffrea was.. actually quite endearing. Cerise just really needed some reassurance.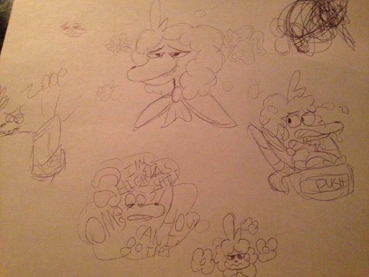 When Rubio called up Magnolia, half of her thought "HOLY FUCK, IM HIGH AS SHIT AND I HAVE TO DO MY PERFORMANCE. I CAN'T DRAW LIKE THIS, I CAN MAYBE DRAW THE FIRST 4 BUT WHAT THE HELL CAN I DO WITH THOSE ALONE? I'M FUCKED!" and the other half thought and said "mm? okee. gimmie a as sec keeeeeeee?" She had to think, and fast. "OK I THINK I KNOW." she thought. All she really had with her was a bag of chalk, a booklet, and a picture of a teleport sigil she doodled on the way there. Luckily she came prepared, she had her book reminding her of her sigils, what they do and a picture of what they look like. But, Rubio called her name, she has to go up there NOW. She stumbled out of her seat, dropping her book on her seat with the page flipped to the pages with the teleport and illusion symbols. She walks (more like stumbles) her way there onto the stage. "ok, im tired and...im tired *giggles hysterically to herself for a sec* but im going to blow your fucking mind off." Luckily she's able to draw a mist symbol on the floor, as its one of the easier symbols to draw, and draws one on the ground. She activates it, and the room starts to go foggy. "yeah, preeeeetty impersive, hah?" The stage clears up a little as a ball of mist clouds up above the symbol. "well, check this out ah?! pay very close to the stage pleeeeeeease" And the ball disperses, completely clouding up the stage, making it unable to see anything on it. Now that nobody can see the stage, she quickly takes out that doodle she had and activates the teleport symbol on it, teleporting to the other sigil on her book. She has limited time, so she quickly runs over to the water fountain in the auditorium and splashed cold water on her face and taking a big gulp of the water. And now, shes (for the most part) come to her senses and runs back to the book and teleports back on-stage right before the fog clears, and precedes to do a full show case of all her abilities and how she uses them.
Marnie didn't... exactly know how to feel about Cerise's performance. But she definitely felt... something... it was mostly discomfort. Especially since she was so close to the whole thing, considering she was sitting right next to Rubio. Seeing Cerise now completely on his lap, she was actually cringing now, both internally and externally as well as her face scrunched up showing both appall and disgust. Of course, there was some second hand embarrassment from watching a student make such a fool out of himself, but actually the majority of her abhorrence was stemming from Rubio.. how the fuck could someone stand to get so physical with him, much less look like he was enjoying it?! She supposed that on a technical, Rubio was... attractive... at much as she hated to admit it. His face was almost perfectly symmetrical; symmetry being the biggest driving force in what humans are biologically hard wired to see as what is culturally accepted as "beauty". But again, this was all purely objective observations, the hard facts!!!! 
She felt relieved once the whole scene was over, as if she was forced to hold her breath and was now finally allowed to breathe in peace. But.. this was mostly because of Cerise's semblance kicking in. Marnie, always so wound up, never felt like she was allowed to breath in peace. ever. So... feeling this sort of relaxation... was definitely a change in pace.... Fuck... it was a good thing Rubio was too busy focusing on the students to pay any attention to her, the asshole would never let it down if it was just the two of them right now. But whatever, she couldn't really care to focus on that right now... she was supposed to be focusing on the poodle up on the stage! If she wasn't so high, she would have definitely been able to see through Magnolia's whole trick involving getting to the water fountain, but the fact of the matter was that she WAS high, and that she COULDN'T see through the trick. "Damn... she can adapt to semblances too o.o" Marnie whispered to Rubio, her voice showing that she was clearly very impressed.
While at first, Zaffrea was shocked at Cerise's performance, not because she was jealous but because this was a figure of power that he was grinding up against! But then Zaffrea was beginning to feel light headed, her depression fading away for more pleasant feelings as Cerise walked back up to her, she almost didn't realize Cerise was feeling sad as she began to hold Cerise close with a bit of giggling, "Oh… you know that head master is intimidated?" she said a small bit of a slur but was speaking true as her empathy caused her to be able to basically always tell what others were feeling, "You may have a grazed a not so pleasant topic with him involving his looks… So maybe he was just putting you down to make himself feel better and about his criticisms…" She was giggling a little bit more as she shook her head, "No, I am a dancer and I know a good job when I see one~ But different cultures probably have different styles that they prefer so do not worry so much love~ You were amazing and I would not mind a show of my own sometime~" she added a slightly husky tone at the end as she started to kiss his cheek and neck too high to really worry about anything else. She noticed Maggie go up and didn't realize what Maggie was doing but suddenly there was mist all over the stage, "Oh no! She turned to mist? I can not regenerate that!" She was panicking.
Nur was laughing, rocking back and forth feeling nice from the high, "BWAHAHAH …. CERISE… GEEZ WHAT THE HELL IS IT WITH HEADMASTERS AND PROSTITUTES AMI RIGHT… DAMN CERISE ISN'T SUCH A HOT SHOT NOW EH?!!!!!!!!!" he would normally be very considerate about Cerise but was too high to really do anything right now. When he saw the mist go up on stage, he played around with the fog onstage out of instinct raising the temperature of it so that it would be close to unbearable degrees, but he didn't want to sabotage the other student he just didn't know what he was doing! The rise in temperature would probably have done nothing to Maggie's performance but probably would make her unpleasantly damp and sweaty afterwards with a bit of trouble breathing. Heh.
Rubio payed close attention to Maggie's performance, each of the drawings and what they could do. He nodded, pleasantly impressed as he wrote a couple of notes down on his scroll, then turned to Marnie as she spoke to him. Ah, of course she was under the influence of Cerise's semblance, she never usually spoke to him unless absolutely necessary. He smiled a bit, thinking of a way to get back at her, "Yes, indeed, her semblance incorporates a wide range of smaller powers which allow her to adapt quite nicely to different scenarios. And that quick thinking… truly magnificent. But… you know Marnie, not everyone has been performing so well... You see, I didn't just bring you along to carry my bags, but to lay you off really. You've been consuming too much of the school's budget with all your research equipment, and we are looking into far different forms of Grimm study than you had in mind, so I decided it was best to let you off now as we're making these transfers of students. But hey, behave well today and I may give a good recommendation to the headmaster here. They are good on professors or anyone of importance, but you may make a good secretary. What do you think about that?" As he lied to her he scratched the behind of Marnie's ear to further emphasize he was condescending her.
Rubio stood up and applauded Magnolia, "Fine display of skill and range of abilities," he commented. It was a rather small compliment, but by not giving her a whole speech of hate he showed that he was indeed impressed, "Now then, we will have Shiro Schwarz up." He sat back down as he pulled up his file and got ready to take a couple of notes.
There was a small number of students all kind of close to the stage, so they probably didn't notice the growing darkness that was taking over the auditorium. With the darkness cloaking Grim, Grim was moving its way towards the front and watched the poodle. She was cute. 
Grim was hiding out in the open. It was hiding nearby the book that that the poodle dropped so there was this shadowy darkness kind of glooming around Magnolia's seat.
In a way,Maggie was kind of thankful of Cerise's semblance after she got off stage. I mean, if she didn't think fast, getting to the water fountain, her entire performance would have been completely ruined. .. But, she did successfully make herself competent enough to make it through her presentation, and his semblance made Maggie a lot more calm and lax. Who knows, maybe if Cerise didn't use her semblance, Maggie would have choked up on stage from sheer nervousness. She sat back at her seat, drifting off as she saw her surroundings getting darker and darker...
Shiro walked up to the stage, taking a sip of the flask again, though this time emptying it. He sighed a bit in disappointment before putting it away and looking at the two with a confident smirk.
"Greetings, as you know, I am Shiro Schwarz. My adaptive skills are more with the combative situations, and a bit with the situational side of missions. Falling building, falling, and other things dealing with shit situations. Though for this, I feel combative would work much better. So, if could possibly get a volunteer as a sparring buddy, It would be very appreciative."
He said with a smile.
Rubio nodded as he examined the students and pointed to Nur, "You there, share the stage with your friend as you will both be examined at once," he said. 
Nur was busy laughing for a bit then stopped as he was talked to. Still snickering he stumbled onto the stage, "Not my friend, but okieeee," he said as he stood across from Shiro kind of out of balance but still standing as he tried to put up a defensive pose but failed.
"Nur...are you still high from Cerise? Are you good to fight?"
He asked his partner in a worried manner, actually concerned for him.
"L-l-lay me off..!??" Marnie squeaked out, tears beginning to well in her eyes. She would usually be able to see through such an obvious lie, as despite it being true that her equipment was pretty pricey, and that she was taking the Shade's lab into a quite different direction, it was also equally if not more so true that Rubio was a man who prided himself on prestige, and what could be more prestigious than having her work for him!? She wasn't necessarily one of the top, leading scientists of the nation (yet), but due to her unorthodox methods and areas of interest, she was definitely well known, and brought some degree of attention to Shade merely through the position she held there. But again, things were not usual at the very moment, and all of this was quite clouded to Marnie. "I can't... *sniff!* be some shit eating secretary... >:'( " She squeaked out in a frustrated, yet very sad voice. Desperate to keep her job, and too high to really have any of her usual dignity, she grabbed Rubio's wrist to show she was serious. She really must have been, Marnie hated to touch or be touched. "You can treat me like SHIT, walk all OVER me, step on my TAIL, pull on my EARS, but PLEASE, *sniff sniff!* I need you.. to let me stay..!" she cried out to him, putting emphasis onto each and every word, and even full on crying half way through. Needless to say, if Marnie was going to feel an emotion, whether it be anger or anguish, she was going to feel a lot of it.
"It's all the same to you, Sir, but what you did was a major dick move. Especially when she is under the influence of the high. Honeslty, she could do much better than what you think she can do. Or else you wouldn't have had her are your assistant, correct? So stop with the shit joke and being a shit person in general. Be in her shoes for a mile then do what you do. I promise you if you had a good spring in your body, you'd stop this bullshit with her."
He said angrily. A sense of disgust getting pointed in Rubio's direction.
Nur wobbled to one side as chuckled not his usual raspy chuckle but more hyperactive. "I'm not here to fight you, you idiot. I'm here so you can beat me up. You're such an IDIOT. you actually thought we had something? Listen...". He got irritated as Shiro started paying attention to Rubio instead of him when he had something important to say to him. He wobbled over to Shiro and brought him down so that he would be down at his height, slurring his words as he spoke, "You're the only shit joke around here, Shiro. I literally just met you to have fun but you HAD to take this in some super intense love shit and you know what? I'm gonna make things clear so listen up. We had sex once. That doesn't make me your boyfriend." He let go of Shiro. 
Rubio's expression towards Marnie softened a bit, but didn't really want to process that he felt a little bad for making her cry like this. He didn't know how he expected her to react other than with slight anger, but seeing her get sad like this made him a bit uncomfortable with himself as he pulled Marnie a little down since she was holding his wrist, "Pull it together, you know your job is secure with me," he whispered a little loudly as he didn't want to continue to hurt Marnie as it never was his intention from the beginning. Rubio then turned to Shiro, a bit surprised by Shiro's outburst directed towards him and continued to examine the two as he mentally decided that he had seen enough.
Grim was whispering more words to Magnolia, but she was kind of drifting off and then iy noticed that people were starting to be mean around here so Grim backed up a few seats back to close to Cerise and Zaffrea. It started whispering to Cerise, making it darker where he was specifically but not altering Zaffrea's spot, "Your flower is pretty..." Grim reached out to touch as it was hidden in the darkness and Cerise was in it too so he would definitely not see it but accidentally lost control of its semblance a bit to disperse the darkness around the auditorium. Instead it concentrated it light or rather lack of light spatial data as it usual did with its plants to be concentrated where it was going to touch, Cerise's flower, effectively blackening the flower as a whole. Grim was out in the open and looked like a little grimlin, huddled on top of a seat near Cerise and his now black flower. It had its hoodie covering its face which would have looked horribly frightened and guilty as it jumped out of the way and over a couple seats them plopped onto the floor and scrambled back into the corner. Hiding but not so well anymore.
Cerise reveled in the attention he was getting from Zaffrea, leaning into all of the little kisses and pecks and giving a few of his own. "For a dancer, you don't dance nearly enough; If anything you should be the one putting on a show for me sometime ;) " Cerise flirted back, actually feeling really nice. Their sex life had been sort of dying down, even before she had entered her coma, so seeing thing begin to spark back up again was definitely putting Cerise in a better mood. He was getting a little too affectionate with Zaffrea to really pay much attention to everything going on, completely ignoring whatever was going on on the stage with Nur and Shiro, and the little spat between Rubio and Marnie. He opted to chat and flirt more with Zaffrea instead as they suggestively whispered to one another, laughing together here and there.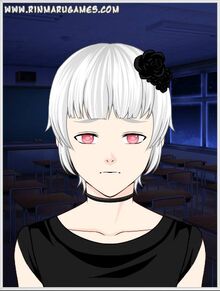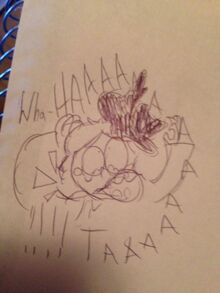 Suddenly though... Zaffrea had a shocked look on her face. "Hm? What's wrong?" Cerise said, a little confused, not only because of Zaffrea's expression but also because... the room was darker now? He had something else to be more concerned about though. "Is there something wrong with my hair? Did the mist frizz it up?!" Cerise said, now a little more concerned, quickly scrambling through his handbag to pull out a compact mirror. When he opened it up and angled it towards himself though... his face filled with horror and he let out a scream. "!!!! w-HAT!!!! IT... IT'S... NOT... THIS ISN'T..." He started to hyperventilate a little, his breathing rapidly increasing as he failed to compose himself, too upset to even try. "IT'S.......IT'S...." He couldn't even bring himself to say the word "black", saying it out loud would just make it all too much real. Spotting Grim in the background through the mirror, he saw it in background huddled up on a chair, and face shifting from full of horror to menace he proceeded to quickly stand up and approach the shadowy lump, having no words to say but definitely actions to take. Grim quickly hopped away into the corner before he was able to reach it, but this wasn't a problem. Cerise followed, ungracefully scrambling over the chairs himself as he was extremely motivated to reach what he saw as the culprit. Grim was cornered now.
He looked down, shocked and upset. He didn't know what to do or to say. Then everything went black. He pulled his chokutos out in a blur and snapped them together before the blades angled into kama like blades. He pulled them apart, it being connected by a strong wire. He spun one side of the newly formed kusarigama and threw it at the now turned Nur.
"You want to do shit like to me and you will fucking die like the scum you are!" 
The Kama and wire would aim to wrap around Nur's neck and the blade would swing down into his shoulder to making it stick.
He yanked the wire and with his Gravity semblance, the blade would be pushed I think the direction of him before turning and throwing the bastard to a wall.
"Hope you brought your wallet! Cause the rent in hell is paid in advance, Motherfucker!"
Well, it wasn't as if Nur didn't see this coming, but now that the high was wearing off, thoughts of OHSHITOHSHITOHSHITOHSHIT kind of came to mind as the wire tightly wrapped around his neck and he was hurled straight for the wall, slamming in an almost bone shattering way. Well it WOULD be bone shattering if it wasn't Nur, but it was so it was going to take A HELL of a lot more than that to severely injure him. Nur fell to the ground, wire still tightly wrapped around his neck as he got up, kinda hurt but not really fully yet as he looked physically battered from the bitch slap to the wall but didn't seem like it affected him all too much honestly. He held his hands out in surrender.
"Listen, Soren, right? Listen, I never meant to cause any harm! Honest to gods I wasn't! It's just, this really isn't my deal and I was getting kinda uncomfortable and things just escalated! Ya know? It ain't my fault you guys don't know how to have any fun and you blow things outta proportions like complete idiots, I mean like seriously, ya know?!!!!!!! Can't we just go back to being fuck buddies?" he honestly wasn't trying to dig his grave even deeper but that's probably what was happening anyway.
His pitch black aura was grow more and more around him. He gripped the rope and yanked back again to pull him off balance before he used his semblance to push himself towards Nur via the metal bars and plates in his jacket. He spun and aimed a kick at Nur's head, aiming to kick him back into the wall. 
"You motherfucker...you just don't know when to shut the fucking hell up, do you, dick?"
He pulled the wire around his throat to choke him while his arm was pinning Nur to the wall. 
"You son of a whore, I'll fucking kill you and I will do it with a fucking grin on my fucking lips!"
His lips etched a sadistic and malice filled grin, his eyes wide waiting the kill. 
"Let it be known that the broken heart of Shiro will be what caused your death. The one who will spill your blood will be Soren, Hell's Blood Spiller."
He pulled harder at the wire. 
"Time to meet your end!" 
He said just as he would pull the wire to kill the male, but before he did, his Grip would loosen and so did the wire around his neck. He stumbled back, holding his head, muttering to himself.
Nur gasped lightly as he was pulled harshly, grunted roughly as he was kicked then mostly just laughed in a croaking way as the wire tightened even further and he was pinned, "Mmmm sexy, you know what would REALLY shut me up, eh? You already got me pinned up after all~ hehehehe~ though I gotta admit you calling yourself something as ridiculous as "Hell's Blood Spiller" is kinda a turn off.." he managed to croak out as he readied himself for another blow, then stopped talking entirely as he pulled to the point where it was just impossible to speak. He gasped for breath now and struggled away as Soren stumbled away, then laughed, knowing from his own experience that he was switching out and another was switching in, "Awww, come on now, big boy, thought you wanted to avenge idiotic Shiro's broken heart and spill my blood? Gonna have someone else do it instead? It's okay, you know I can get pretty sexy with anyone, I don't care who and I don't really care about them in general~!" He laughed further to mock them.
He slowly stood back up and glared down at him, his voice booming in a way that gave him the impression of a holy warrior. 
"You must be Nur, The one who broke the heart of Shiro and in doing so, Ours. What makes you think that is what you should have done? He has been through so much, yet you break him once more. Why? What give you the right to do such a Vile thing!"
The blades went back to their straight edged forms, wire detached. He clamped them together, back to back to make a double edged sword. He held and pointed it at Nur. 
"To break his heart, you must not have one for yourself. What do you say in your defense?"
Nur held out his hands in defense, "Ya know what? I broke Shiro? THAT DWEEB BROKE HIMSELF, and you know what I find annoying? You all dare to call yourselves different if you're practically just all very similar sides to each other! Hah! Oh, I honestly doubt Shiro's been through anything really. You wanna know what REAL trauma is like? Maybe I'll just have to teach ya a lesson.
And about not having a heart, I do got one, but its kinda split in two... But hey I know where I need a good stabbed if you're interested~~~" Nur gave his more annoying laugh as he wiped some blood off his cheek, he probably had a broken something by now and his neck was terribly bruised but honestly it wasn't all that bad, he took and could take more and WANTED more as he eyed Halian seductively obviously making every attempt to show that he was checking him out, "Seriously, why do you guys have to make such a huge mess about a little fucking? I mean, for crying out loud, it's not that big a deal. You made me uncomfortable so I had to shove you off and it's as simple as that. You honestly thought I gave a shit? Heh..."
As soon as the last word exited his mouth, a blade was flying at him, aiming for the shoulder, not wanted to kill, but maim. As it would get lodge in his shoulder, a force pulled it out and it came back into the hands of Halian. He shot his hand forward and stabbed Nur in the shoulder with enough force to break his collar bone.
"You putrid sack of waste. You know nothing of his past. In 10 years, you can't possibly imagine the horrors he suffered in that time. Next time think before you speak.."
He moved back and pulled the blade out just enough to cut down his chest as he turned away.
"And I have mercy to let you live, be happy I didn't let Soren finish you. I know you can be better, be a better person. You just need to look within yourself."
He closed his eyes before opening them again. He sighed and unclamped his sword into two again before folding them into pistols.
He turned to Rubio.
"I am sorry you had to witness that, I honestly am. I hope you forgive us. I am Orion, you just saw Halian. Each of Shiro's headmates, me included, work in different situations. Each of us adapt In a special way unique to eachother. Some are more gruesome, blood shedding, some are more on the forgiving and better side. I, as is Shiro, are the Neutral. We aren't good, we aren't bad. We just help to our own needs and that usually aligns with you guys and what we want or need. Each of use had a combative style suited for each other. We all have a way to deal with a situation, we all work together, sometimes, to get what is needed done. And yes, we can do aerial combat as well."
He said in a smooth, deeper sounding voice, one that demanded the attention of those around him when needed.
This was unintentional on Nur's part, but the sheer amount of adrenaline, pain, and sorrow all rolled into one combined into a massive blackout on his end as his mind only did what it did best, put the other one in. Neela was the one who took the initial stab to the shoulder, then the second which also cut his chest. At first he was in a moment of complete shock, Neela hardly ever was out to feel this much massive pain and never battled in his life or gotten beaten up like Nur. Small physical injuries were enough to nearly knock him out so fronting in after all the damage that Nur already took plus these last two attacks sent in him a spiral he didn't know how to handle. He was so afraid of coming out and was utterly petrified when the blade was shot at him twice.
He couldn't withstand the shock for very long as the pain starting coming in at full force but he could hardly cry at first, just collapsed onto the ground and started spasming lightly as he bled uncontrollably. The pain was becoming more and more unbearable with each passing second a worse wave than the last as he started sobbing at first then his sobs and screams rang throughout the room, a voice that was definitely Neela's and not Nur's.
Zaffrea at first was paying close attention to Cerise and Grim worried that she may have to intervene as she did not hear due to her deafness what was happening with Neeru and Shiro. A slight turn to the head and she noticed that her brother was massively bleeding out and spasming on the ground. She was completely shocked and in a panic, lifted a couple of rows of auditorium seats that were cemented to the floor to toss them out of the way as if they were nothing so she could easily reach her brother.
Neela was crying as Zaffrea reached her, desperately trying to hold out for some, any form of relief, he couldn't handle anything, he didn't even know it was Zaffrea since his pain blinded all his senses as he continued to cry. 
Zaffrea was shocked at how severely injured he was and could tell that this was Neela, not Nur as she began to activate her semblance to take his pain and start healing his wounds with the regenerative properties of her semblance, she focused purely on the stab wounds and was nearly drained before she could really work on the other injuries to his back from the wall impact or the severe bruises on the neck. But she pushed herself anyway, not even worried that she was pushing herself too far after having gotten out of a coma for having pushed her semblance to its breaking point, but she didn't care she needed to heal her brother. While she tried not to worry too much about Nur getting beat up as he could handle himself mostly, Neela was much more delicate and she felt immensely guilty about not protecting him. She was close to passing out when she fully healed him and was close to collapsing herself. 
Despite the pain being gone, Neela was shaking tremendously and cuddled himself very terrified.
Rubio had been watching the battle occur with much intensity as he examined them but did not get involved. He listened carefully to their words as well as what was directed towards him at the very end. He noticed the small occurrence with Grim and Cerise's flower and how Grim spatially manipulated the darkness in the room throughout all of this. He definitely was impressed by Maggie's earlier performance as he showed and he also gave a couple few final thoughts on Neeru's defense and Zaffrea's strength as well as healing properties before he collected his things up, hoping to deal with Marnie a little later as he stood up to address all the students, "I have seen enough," he roared loudly, "Our time here is drawing to a close and I have made my decision. All of you, Cerise Moani, Grim Ceifeiro, Magnolia Chien Kriede, Neeru Nehanth, Shiro Schwarz, and Zaffrea Shanti have been accepted to Shade Academy. Marnie here has left a small box of new scrolls right by the far left entrance of the auditorium which each and one of you will obtain and you will receive your official acceptance there shortly as well as directions to board tomorrow's airship to Vacuo to depart at approximately 12:00 pm. You will all have tonight evening and tomorrow morning to pack away essentials with a few teams on hand to do major packing and transportation of items to be brought to your new homes. Congratulations on your acceptance and yes, you are all sponsored by the Aurella Diamond Company. Have a pleasant afternoon and evening, new students." He turned to Marnie and motioned her to follow him as he exited the auditorium with her leaving the students with their messes to pick up after themselves.