Alright! Are you ready to rock?! 
[REMOVED FROM PLAY]
Luciela Argentum
is a background character. 
Stats
| | | |
| --- | --- | --- |
| STRENGTH | 2700 | |
| ENDURANCE | 1200 | |
| PERCEPTION | 100 | |
| AGILITY | 200 | |
| CONSTITUTION | 1190 | |
| TOTAL | 5,300 | /10,000 |
455 EXP UNASSIGNED
4,000 BOOST NEEDS TO BE ASSIGNED TOO
Basics
Voice
Tara Strong of Naruto fame (as the Sand Ninja Temari).
Backstory
Born to two researchers during a particularly cold winter even by Atlesian standards, Luciela Argentum is an interesting individual. Being born to a human father and faunus mother, her mixed heritage has made for many a story. Inherited from her mother, Luciela always was able to manipulate pure fire. Thus her eventual nickname derived from the winged lizards from ancient myths, the Dragon of the North.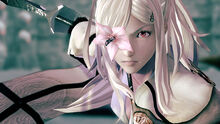 As she was growing up her contact with her parents was woefully minimal not by choice. Unfortunately a temporary rift would be born between them due to them not being there when the fifteen year old Luci at the time needed them most, facing an attack from a vicious Grimm. While she did triumph over the beast with the sacred sword Yato in hand, this hard fought battle was not won without it's costs. Luciela had lost an eye, with a bloom spontaneously taking its place.

Luciela had been semi hardened from these events, and while she did patch the rift with her family, she did take away one thing. She no longer was going to lay down and play the victim. Armed with the knowledge of swordplay, martial arts, and bio mechanical sciences gleaned from her parents, she constructed the midnight black gauntlet she dubbed Darklight and made her way to Shade.
Personality
Aloof, but caring. Very straightforward.
Combat
Weapon
The divine blade, Yato. It possesses serrated teeth that can rend flesh like a chainsaw. Complementing this is the self proclaimed "ultimate defensive gauntlet" Darklight which can absorb the heaviest of blows with proper timing.
Other Notes
Theme Songs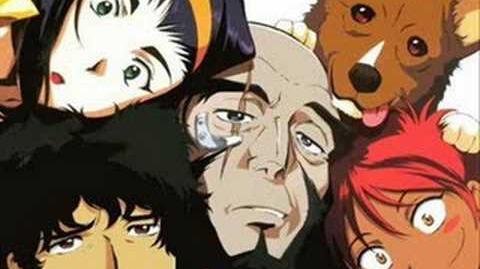 Timeline
BST 2-1
Instead I Get a Soap Opera - 30 EXP
Tries to keep it together when confronted with Cerise and proves successful, commenting on odd fiasco with lack of amusement
The Day Has Finally Come - 75 EXP
BST 4-1
Graveyard of Dreams - 300 EXP
Travels barefoot through the desert and meets up with two individuals on a recon mission
Just for Once, Everyone Lives - 50 EXP
Takes a backseat ride on the way to Vacuo
Gallery
Ad blocker interference detected!
Wikia is a free-to-use site that makes money from advertising. We have a modified experience for viewers using ad blockers

Wikia is not accessible if you've made further modifications. Remove the custom ad blocker rule(s) and the page will load as expected.