Ishtar Nil
is a first year student attending Shade Academy, played by
Thaddeus Hardces Lau
.
Stats
| | | |
| --- | --- | --- |
| STRENGTH | 200 | |
| ENDURANCE | 250 | |
| PERCEPTION | 100 | |
| AGILITY | 200 | |
| CONSTITUTION | 250 | |
| TOTAL | 1,000 | /10,000 |
50 EXP UNASSIGNED
Basics
Voice
Backstory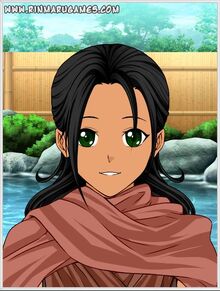 Ishtar was born into the Nil Royalty two years after her brother. During her childhood, she used to play about with her brother and would look up to him as he protected her from bullies and kidnappers alike when their personal guards were not there to protect her.
Ishtar Nil was nearly kidnapped by a group of raiders in an attempt to force ransom and transferring of power of the Nile Fortress from the Nil Royalty towards the group of raiders.
After hearing about her brother joining the Royal Guard training and Shade Academy, Ishtar joined against her parent's will and went to Shade Academy to become a Huntress in training.
Personality
Cheerful, naive, clingy, supportive, child like. 
Combat
Weapon
Two whips that can use dust to enhance their effectiveness and can be combined to be two tiger head hook swords.
Semblance
Let's be friends! Ishtar can make anyone or anything be friends with her or make them not want to attack her or her friends. However, she uses this mostly when in combat and as a last resort when she is out numbered and outgunned. There is however a duration to this and it would last only 2 minutes.
Future Outlook
Character Development
Matures in thoughts and be responsible princess.
Intended career
Huntress and a Princess.
Goals
To graduate Shade academy and take care of her family.
Other Notes
Likes to hug her brother, very caring of her brother. Loves him a lot, and no Emsé, you cannot have him without fighting her.
EXP/Timeline
Season 0.5
BST 4-1
Play Along - 50 EXP
Fangirls over her brother and her best friend kissing
Gallery
Ad blocker interference detected!
Wikia is a free-to-use site that makes money from advertising. We have a modified experience for viewers using ad blockers

Wikia is not accessible if you've made further modifications. Remove the custom ad blocker rule(s) and the page will load as expected.