Played by
Kory Klimczak
.
Stats
| | | |
| --- | --- | --- |
| STRENGTH | | |
| ENDURANCE | | |
| PERCEPTION | | |
| AGILITY | | |
| CONSTITUTION | | |
| TOTAL | | /10,000 |
Basics
Name
Cerise Moani (Pronounced Moe-ah-knee).
Gender
Cerise is a girl, but doesn't mind presenting as male for her work. Not that her gender isn't important to her, but making money and taking hearts comes first >;)
Voice
If you're going to be a host you have to play the part; Cerise actually puts a lot of effort into maintaining her voice to be a pitch lower than natural. It's work, but then again, it's all part of the job. Her voice as a result is a pitch lower than Cerise's, more on the androgynous male side.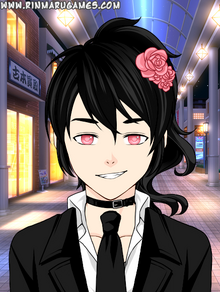 Backstory
Personality
Charming, flirty, desirable! But all at once, unobtainable. She's the top ranking host for a reason, and takes a lot of pride in it.
Combat
Weapon
Semblance
Cerise is a natural at cheering girls, or really anyone, up; so much of a natural that sometimes she likes to give herself a little challenge! By giving a little jab of sadness into her customers through her semblance, she can make them emotionally latch onto her all the more as she then provides a shoulder to cry on. Sometimes she feels a little bad about pulling that kind of trick, but... it's okay since her customers are always feeling happy in the end.
Ad blocker interference detected!
Wikia is a free-to-use site that makes money from advertising. We have a modified experience for viewers using ad blockers

Wikia is not accessible if you've made further modifications. Remove the custom ad blocker rule(s) and the page will load as expected.